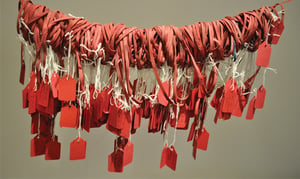 £

1,800.00 - On Sale
300 red rubber bands.
All individually tagged and labelled with dates, words, phrases, memories, locations, cryptic allusions, precise observations, relevant or completely irrelevant information associated with that red rubber band.
An exercise in obsessive behaviour, an experiment to document a 5 year period between 2006 - 2011. Initially collected as totems and omens of good luck, the compulsion turned into the piece itself. The labelling of the mundane, everyday object to imbue it with some meaning and a sense of it's own time and existence.
The piece comes with the 300 red rubber bands attached to fishing-wire for ease of display, see pictures here -
It also comes with a signed, framed original copy of the lyrics to "MY GOLD'S BANGLA". Also by purchasing the piece you will receive a lathe cut 7", which will be the only one in existence, the a-side being the original version of "MY GOLD'S BANGLA" and the b-side a re-working completely exclusive to the 1 of 1 pressing.
The cost includes delivery to anywhere in the world.